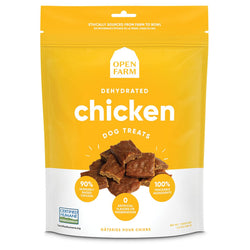 Open Farm Dehydrated Chicken Dog Treats 4.5oz
These munchable treats are protein-packed, thanks to 100% humanely raised chicken, that is lightly cooked then dehydrated to maximize flavor.
Humanely Raised Chicken - New York, USA 
Our humanely raised chickens are naturally raised on family farms in a cage-free environment with gentle handling, space, and the ability to engage in their natural behaviors.Our chickens are fed a healthy vegetarian diet without antibiotics or growth hormones. 
Peas - USA 
Peas help with intestinal digestion and are a great source of vitamin A and C, thiamine, riboflavin, calcium, iron, phosphorus and potassium 
Molasses - USA 
Non-GMO molasses sourced from the USA 
Sunflower lecithin - Argentina, Brazil, Mexico, USA, Canada, Ukraine, France, The Netherlands, Romania, Spain, Germany, Russia and India 
Sunflower lecithin supports healthy fat absorption and neurological function. 
Sea salt - United States 
Sourced from the San Francisco Bay, our sea salt helps maintain the proper acid/alkali balance in the body as well as the digestion of protein. 

Mixed tocopherols (a natural preservative) - United States 
A natural preservative & a source of Vitamin E.
Rosemary extract - United States 
Rosemary extract is a natural anti-oxidant and preservative.
Our treats are lightweight & resealable, making them great to train and travel with.


Calorie Content: ME (Calculated): 5.2 kcal/gm or 16.0 kcal/treat
| Nutrient | Percentage of Recipe |
| --- | --- |
| Crude Protein | (min) 30% |
| Crude Fat | (min) 30% |
| Crude Fibre | (max) 1% |
| Moisture | (max) 16% |