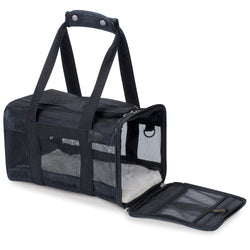 Sherpa Bag Original Deluxe Pet Carrier Black
Travel in comfort and style with Sherpa® Original Deluxe™ Carrier. Perfect for traveling by plane or car, for a trip or just to the vet. Patented spring wire frame allows the rear end of the carrier to be pushed down several inches to conform to under-seat requirements. The carrier has mesh panels for ventilation, locking zippers to prevent accidental escapes, and includes a Seat Belt security strap which doubles as a luggage strap. Top and side entry options make it much easier to comfortably load pets in the carrier. A large side zippered pocket can hold your important pet travel documents and anything else your pet may need. The no-slip shoulder strap is adjustable and features a padded support for comfort. A soft, cozy, removable, and machine-washable faux lambskin liner is included. Sherpa® replacement liners are also available and sold separately. Approved for use on most major airlines. Small and medium sizes are included in Sherpa®'s Guaranteed On-Board® program. Available colors include Black, Brown, Plum and Gray. Available in size small, medium and large.
How to Find the Best Fit:
Select the carrier size based on your pet's measurements and then by your pet's weight, making sure not to exceed the maximum weight limits. Note: the carrier is designed for pets lying down, so your pet may not be able to stand.
Small Carrier: Fits pets up to 13 in length x 7.5 in height and up to 8 pounds
Medium Carrier: Fits pets up to 16 in length x 10 in height and up to 16 pounds
Large Carrier: Fits pets up to 18 in length x 11 in height and up to 22 pounds
How to Measure Your Pet:
For pet's length, start at the front of the chest and measure to the end of the pet's rear. For height, measure from the floor to the top of the back.