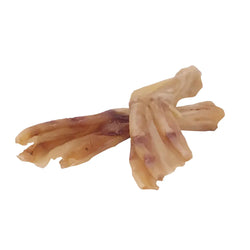 Natural Cravings Single Duck Foot
Transparently sourced from 100% pasture-raised duck, these dehydrated chews are highly digestible and humanely raised to support regenerative agriculture. 
Duck is great source of antioxidants that will help boost your dogs immune system.
High in Omega-3s! Great for skin, coat, and joints.
Rich in glucosamine and chondroitin (also great for joints and hips)!
Great daily chew for teeth cleaning and preventing gum disease.
Ingredients: 100% Dehydrated Duck Feet
Sourcing: one of our incredible Farm Partners