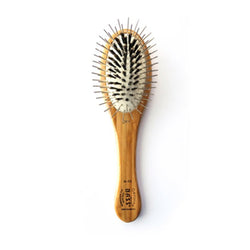 Bass Hybrid Groomer Brush: Small Oval - Natural Bristle & Alloy Pin
The Hybrid Groomer  |  Shine & Condition Pet Brush  |  Patented & Award Winning  |  Natural Bristle + Alloy Pin  |  Pure Bamboo Handle  |  Small Oval
Features

Detangle and Shine at the Same Time!!! 3 patents and multiple industry awards. The single most functional pet brush you can buy!
Premium natural bristles distirbute natural oils, creating a beautiful shine while the alloy pins detangle and style the coat.
Eco-friendly natural bamboo handle with a luxury grade finish.
Used and recommended by professional groomers all over the world.
Best for medium to long coats.
Natural bristles create incredible shine by distributing oils, but don't penetrate beyond the top layer of the coat. Alloy pins thoroughly detangle, but don't create shine.
​With our Patented NEW Hybrid technology, you can FINALLY detangle and shine at the same time! The Hybrid Groomer is the world's first brush design to combine the polishing power of natural bristles PLUS alloy pins to separate the fur – all on the same brush pad!  It's 2 brushes in 1, giving your pet's coat a clean finish and healthy shine.    
The Hybrid Groomer has a beautiful eco-friendly bamboo handle, luxury grade finish, Simply put, The Hybrid Groomer is the single most functional pet brush you can buy.