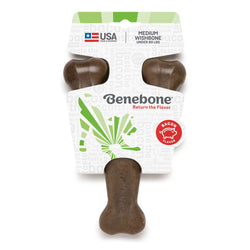 Benebone Wishbone Bacon
Dog-Friendly Design – Last time we checked, dogs don't have thumbs. Our wishbone chew is cleverly designed so your pup can get a good chew going.

Real Flavor – We use only 100% real food ingredients for irresistible flavor and scent. We fuse 100% USA-sourced REAL BACON all the way through the chew. Dogs can tell the difference.

Made in the USA – We are fully committed to Made in USA, including packaging, tooling, and all material and ingredient sourcing. We proudly manufacture our products in New York.

Dog Welfare – We are fully committed to the welfare of dogs through product donations and community involvement.

Safety First – Benebones are relatively hard and not edible. Ensure your dog has strong teeth and replace after reasonable wear.