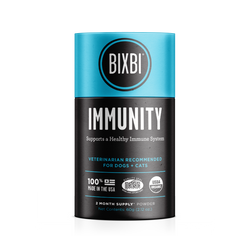 Bixbi Immunity supplement 60 grams
Supports your pet's health and wellbeing
Don't wait until your pet gets sick to start thinking about their health, give their immune system the upper hand with BIXBI Immunity. It's made with a powerful blend of mushrooms that supplies your pet with a large range of antioxidants and polysaccharides to reduce the number of free radicals in their body. The mushrooms in our formula have also been shown to support normal inflammatory responses and both white and red blood cell production. With BIXBI Immunity, your pet is well-positioned to fend off nearly anything that comes their way.
USA Made & Sourced
Made with Organic Mushrooms
Each Canister is a Two-month Supply for the Average 50 lb. Dog
Directions for Use:

 

Administer orally daily. 1/4 teaspoon (.5 grams) per 25 lbs. Containers include a two-sided scoop. One side measures 1/4 teaspoon and the other measures 1/8 teaspoon.
Recommended:

 

For better results, double dosage for the first 7 days. Mushroom supplements can be given during or after mealtime.