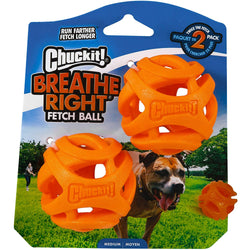 Chuckit! Breath Right 2 Pack
Interactive chase and fetch toys made from plastic, so they're safe for doggie's mouth—they're also a fun chew toy.
Great fetch balls that allow for easier breathing during play, so your pal won't get tired as easily.
Works with all Chuckit! medium launchers, and withstand hours of fun whether it be out in an open field or at the beach.
The ingenious fetch toys help keep your pal active and healthy as it promotes exercise and activity, and is also perfect for those dogs who tend to get bored easily.
Unique design features openings that allow the toy to be used as a treat ball and will help keep your dog busy and engaged as he tries to get to the treats.
Help your dog spend his boundless reserves of energy with the Chuckit! Air Fetch Ball 2-Pack Dog Toy. These interactive chase-and-fetch toys will provide hours of playtime for you and your furry friend. Featuring a design that allows your dog to breathe easier, run farther and fetch longer. The fetch balls have incredible bounce and durability, bringing new ways to fetch, and have more fun, interactive way to spend time with your best friend. Great for all breeds and all life stages.