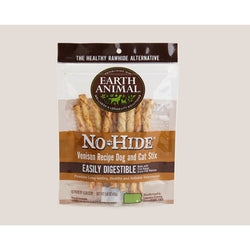 Earth Animal No Hide Venison Stix 10 pack
Our Venison No-Hide® STIX are the healthy, hand-rolled alternative to rawhide!  Each STIX delivers a delicious, long-lasting chewable bliss to dogs and cats of all shapes.  We call it No-Hide® Nirvana! 
They are carefully hand-rolled, uniquely cooked and dried making them easily digestible and nutritious. And, are 100% free of chemicals, additives, bleaches, and formaldehydes. 
Our Venison No-Hide® STIX are proudly hand-rolled in Lancaster County, Pennsylvania. 
Ingredients: Venison, Brown Rice Flour, Agar-agar, Organic Eggs, Olive Oil, Banana Powder, Bromelain (Pineapple). 
Ingredient Benefits:
Free range, grass-fed venison.
Guaranteed Analysis:
Crude Protein.....47% Minimum
Crude Fat............5% Minimum
Crude Fiber..........2% Maximim
Moisture................13% Maximum
Calorie Content:  ME: 3570 Kcal/kg (Calculated)
ME: 101.1 Kcal/oz (Calculated) 
Approximately 13 KCal Per Venison STIX
Manufactured in a facility that produces beef, pork, salmon, chicken, peanut butter, and venison products.