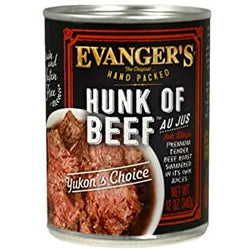 Evangers Dog Hunk of Beef Au Jus 12oz
Evanger's Hunk of Beef is Grain-Free and Gluten-Free, and makes a great complement to our Super Premium and Grain Free dry foods. It can also be mixed with Evanger's canned Vegetarian Dinner to make a complete, balanced, and very nutritious diet.

Hunk of Beef is endorsed by the cRc Kosher for Passover.
Premium tender 100% beef roast cooked in its own juices serves up a meaty supplement.
Single source proteins
Excellent for pets with food sensitivities or allergies
Great for protein rotation diets and dry food toppers
Naturally Grain and Gluten Free
Beef, Water Sufficient for Processing
Crude Protein, not less than  . . . . . . . . . .  16.0%
Crude Fiber, not more than  . . . . . . . . . .  2.0%
Moisture, not more than  . . . . . . . . . .  82.0%
Crude Fat, not less than  . . . . . . . . . .  2.5%