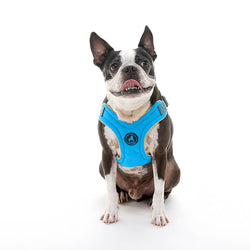 Gooby Escape Free memory foam Harness Blue
Why Escape Free?
How many times has your dog tried to escape by backing out of its harness? The result of "that one time my dog escaped from its harness" can be a scary one. If you're fortunate, you might be able to catch your dog before something happens. But as dog parents ourselves, we are all certain that none of us want to ever take that chance.

The Gooby Escape Free Series were created for exactly that. The Patented Escape Free design contracts the harness when dogs try to back out, which tightens the space around their body and hugs them tightly so the harness will not slip off.
Why Escape Free Memory Foam Harness?
Like its product name suggests, the most differentiating feature of the Escape Free Memory Harness is its use of memory foam in the harness's padding. If you're looking for the ultimate comfort harness in our Escape Free Series for your furry friend, this is it.