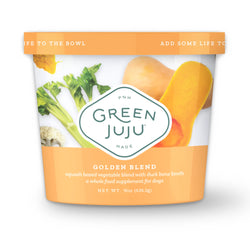 Green Juju Frozen Supplement - Golden Blend
A frozen whole food supplement made with vibrant orange organic vegetables, including butternut squash, golden beets and turmeric with duck bone broth.
Easiest way to add fresh food to any diet!
Grain free, gluten free, filler free, preservative free.
Organic butternut squash, organic celery, duck bone broth, organic cauliflower, organic golden beets, organic coconut oil, organic apple cider vinegar, organic ginger, organic turmeric.