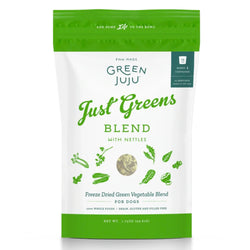 Green Juju: Freeze-Dried Supplement - Just Greens with Nettles
Inspired by our popular Just Greens Blend, this freeze-dried version makes it easier to feed healthy. Plus, by popular demand, we've added nettles to bolster this delicious recipe.
Raw freeze dried to lock in nutrients 

Travel with our original Just Greens blend! 
Ingredients:
 organic zucchini, organic celery, organic kale, organic dandelion greens, organic coconut flour, organic parsley, organic coconut oil, organic nettles, organic ginger, organic turmeric