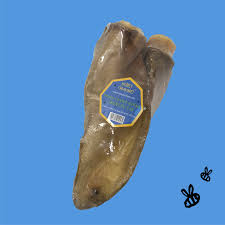 Honey I'm Home Buffalo crunchy ears
These full-sized buffalo ears are not cut or split, so you are getting the entire ear every time. These delicious rewards are chews your dog will love!
We only use simple, easy to read ingredients like Buffalo and Honey. You can be confident that your dog is getting the nutrients it needs from the best dog treat possible.
INGREDIENTS:
Buffalo ear, honey,
natural honey flavor,
amylogum, potassium sorbate
Coated in sweet honey, our energy-packed treats and chews are what dog dreams are made of.