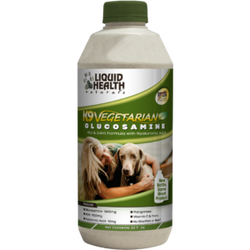 Liquid Health Vegetarian Glucosamine 32oz
Description
Liquid Health Pets manufactures a high quality vegetarian glucosamine chondroitin for dogs.  We are committed to designing and supplying the highest quality liquid supplements that meet or exceed industry standards for natural pet supplements. Keeping with that goal, our new K9 Glucosamine & HA (Hyaluronic Acid) formula is the first vegetarian Glucosamine and Hyaluronic Acid combination of its kind, and is associated with joint health.
As we all know, a healthy dog needs healthy joints.  Here are just a few of the highlights of our K9 Glucosamine Chondroitin joint supplement for dogs.
– 100% Vegetarian—contains no shellfish or beef
– Offers better value than other HA formulas that lack ingredients like MSM, Grape Seed Extract, Manganese, Boron and Omega Fatty Acids
– Recommended for any dog with common allergic reactions, including those triggered animal-based ingredients such as beef or shellfish.
K9 Vegetarian Glucosamine replaces Chondroitin Sulfate (only available from animal sources) with USP grade Glucosamine derived from vegetable sources and is supported by  omega fatty acids, and antioxidants to provide a full spectrum of beneficial joint ingredients.  K9 Vegetarian Glucosamine chondroitin for dogs is a liquid joint supplement for dogs that need a vegetarian diet. Manufactured by Liquid Health
Directions for Use
• Shake well before administering
• Store at 15-30° c (59-86° f)
• Refrigerate after opening
• Protect from heat, light, and moisture
| | |
| --- | --- |
| Under 10 lbs | 1 teaspoon |
| 10-24 lbs | 2 teaspoons |
| 25-49 lbs | 2 teaspoons in A.M. |
|   | 1 teaspoon in P.M. |
| 50-100 lbs | 2 teaspoons in A.M. |
|   | 2 teaspoon in P.M. |
| Over 100 lbs | 3 teaspoons in A.M. |
|   | 3 teaspoons in P.M. |
Active Ingredients per Fluid Ounce
 
 
 
Glucosamine Hcl USP (corn)
1600 mg
MSM (Methyl-sulfonylmethane 99.9%)
1500 mg
Bromelain (80 GDU)
100 mg
Ascorbic Acid
100 mg
Manganese (Chelate)
30 mg
Omega 3, 6 & 9 Fatty Acid Blend ( Borage oil, Flax seed oil, Safflower oil, Sunflower oil)
50 mg
Boron (Chelate)
10 mg
Grape Seed Extract
10 mg
Hyaluronic Acid
10 mg
Inactive Ingredients

 

– Citric acid, Potassium benzoate, Reverse Osmosis water, Sodium benzoate, Stevia, Xanthan gum
• For use in Dogs
• Contains No Sugar, Starch, Salt, Wheat, Gluten, Yeast, Milk, or Soy Derivatives
• 100% Beef & Shellfish Free
• Some settling is normal
• As with any natural product, Color and taste may vary