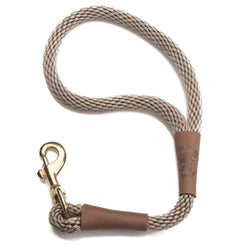 Mendota Traffic Lead Large 1/2" - Tan
Traffic Lead -A short 1.5 foot handled snap lead for situations where you need your dog close at all times.

Soft on the hands with its "Broken in Feel" easy to use and pliable enough to fit in your coat pocket
Brass, satin nickel or black metallic hardware and oil tanned leather splices
Made of waterproof, vibrant, long-lasting multi-filament polypropylene rope.
Matches Mendota's Double Braid Collars
Machine washable, air dry only.
Handmade in the U.S.A.
100% satisfaction guarantee
Shipping Weight 4 oz.
Package size: 4"x5"x1.5"  
We also have 4' and 6' foot available: