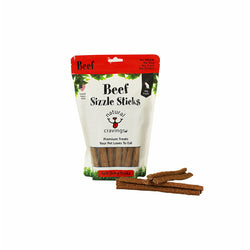 Natural Cravings Beef Sizzle Sticks 12oz
Our Chicken Sizzle Sticks are made with simple, high-quality ingredients to ensure the best flavor and texture. Dogs need a protein rich diet, so:
These treats support your pet's health by providing low fat proteins like our farm raised chicken and other simple ingredients
Chicken Sizzle Sticks are tender, soft and breakable making them the perfect treat for dogs that don't like or can't chew very well
These treats can be broken into smaller pieces making them safe for pets of any size, and a great training tool!
Supervise and feed in moderation. They are intended as a treat, not a food, and make sure to provide plenty of drinking water.
Chicken, Brown Rice Flour, Sugar, Salt, Garlic Powder, Natural Smoke Flavoring, Potassium Sorbate (Preservative)
Crude Protein: (min) 35%, Crude Fat: (min) 21%, Crude Fiber: (max) 1%, Moisture: (max) 25%, Ash 6%