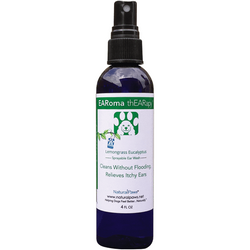 Natural Paws Earoma
Natural Paws presents the world's first SPRAYABLE ear wash! Making it possible to clean the ears without flooding the ear canals.
EARoma thEARapy™ delivers Natural Paws' signature botanical bliss to your dog's ears. This unique herbal blend gently cleanses, soothes, and disinfects ears with none of the mess, leaving a fresh, clean aroma with Lemongrass & Eucalyptus. Using less product with the spray application is more comfortable for the dog, less wasteful and messy for you, and keeps infections at bay due to a drier environment in the ear canal. Learn the WHY behind what we've done to revolutionize cleaning dog ears, here:

 

https://naturalpaws.net/different-on-purpose/
As with all of our products, EARoma thEARapy is clean to use, fights BACTERIAL, VIRAL, FUNGAL, AND MICROBIAL infections and is veterinarian & groomer recommended. Clean and easy to use, the spray application leaves ears feeling fresh, smelling of Lemongrass and Eucalyptus.
Distilled Water, Herbal Extracts (Mullein, Chamomile, Witch Hazel Leaf, Slippery Elm Bark, Elecampane, Soapwort, Witch Hazel, Pau D'Arco Bark), Aloe Barbadensis Leaf Powder, Essential Oils (Eucalyptus, Lemongrass, Tea Tree), Citric Acid, Potassium Sorbate, Vegetable Glycerin