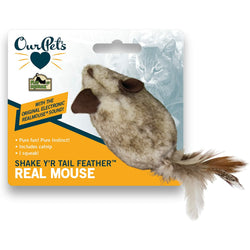 Our Pets Play N Squeak Shake Y'R Tail Feather RealMouse Cat Toy
Awakens natural hunt and play instincts with its RealMouse sound and enticing catnip scent.
Features an electronic sound module that makes a realistic squeaky mouse sound when batted.
Encourages healthy exercise and provides mental stimulation to combat boredom.
Relieves anxiety and stress and redirects destructive behaviors away from your personal items.
Filled with 100% natural, strong and aromatic North American-grown Cosmic Catnip to make your kitty extra playful.
Treat your cat to double the fun with the OurPets Shake Y'R Tail Feather RealMouse Cat Toy. It's the perfect way to encourage exercise and healthy behavior, as well as bonding with your cat. Just dangle and toss them in front of your cat to get the game going. They even include real catnip!