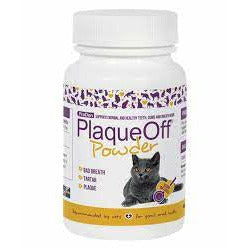 Plaque Off Cat Powder 40g
Cat Breath Freshener: ProDen has been shown to help reduce plaque and tartar on teeth in as soon as 3 to 8 weeks. Regular use can be essential to help support pet dental health at all stages of life.

Specialized Cat Oral Care: Pet dental cleaning powder contains Brewer's Yeast for additional savory flavor when mixed into their wet or dry food. Use included scoop for low-maintenance dosing.

Cat Plaque Remover: Brushing your pet's teeth can be a stressful experience; instead, ProDen works in the saliva to help soften and reduce plaque and as a breath freshener for cats.

Healthy Mouth for Cats: Improper dental hygiene can lead to not only bad breath but also oral health issues. ProDen helps reduce biofilm in the mouth to improve breath odor.

Superior Plaque Off Powder Cat Formula: Designed for feline palates, made with high-quality ingredients, & effective for oral health care; use Proden PlaqueOff daily for routine dental maintenance.