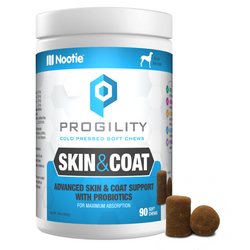 Progility Skin & Coat Soft Chews 90ct 16oz
Veterinarian Formulated Advanced Skin & Coat Support with Probiotics promotes overall skin health while helping to reduce itchy, flaky skin, improving coats' luster and shine, and lubricating the joints. 
Key Benefits:
EPA & DHA (Fish Oil- source is anchovies) are rich in omega 3 fatty acids known to improve overall health of skin and promote a shinier coat.

LINOLEIC ACID (Flaxseed Oil) contains high levels of plant based omega 3 fatty acids including anti inflammatory properties to help maintain healthy skin & coat.

KRILL OIL is a powerful source of omega 3 & 6 that helps to boost immunity, promote joint lubrication and contains antioxidants associated with defending cells against damaging free radicals that cause diseases.

PROBIOTICS help support digestive and immune health by aiding the body to properly absorb nutrients and active ingredients.

Cold Pressed is a modern production process that uses cold temperatures to retain the maximum efficacy of all the active ingredients otherwise compromised by heat.
Directions:
For Daily Use:
Up to 30 lbs.  1/2 Chew Daily
31-60 lbs.          1 Chew Daily
61-90 lbs.          2 Chews Daily
91 lbs. & over    3 Chews Daily 
For dogs requiring more than one chew daily, divide between AM and PM. 
Ingredients:
Active Ingredients Per 1 Soft Chew: Eicosapentaenoic Acid, EPA (from fish oil) (90 mg); Docosahexaenoic Acid, DHA (from fish oil) (60 mg); Linolenic Acid, Flaxseed Oil (omega 3 & 6) (50 mg); Krill Oil (omega 3 & 6) (25 mg) Probiotic Proprietary Blend of Bifidobacterium Bifidum, Bacillus Coagulans, Lactobacillus Acidophilus, Lactobacillus Casei, Lactobacillus Fermentum, Lactobacillus Plantarum and Lactobacillus Reuteri...............223 x 106 cfu Other Ingredients: Ascorbic Acid, Calcium Propionate, Cheese Powder, Coconut Oil, Corn Starch, Glycerin, Lecithin, Purified Water, Rice Bran, Safflower Oil, Sorbic Acid, Vitamin E, Zinc Gluconate.