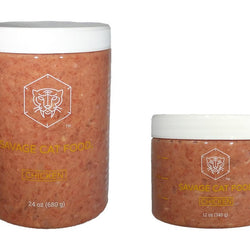 Savage Cat Frozen - Chicken
Savage Cat Food® is made with certified organic chicken from Pitman Farms in California. The chickens are free range, fed a non-GMO diet, and not given antibiotics. The tub is a pure grind without chunks, making it great for picky cats or cats with dental needs.
Organic whole chicken with bones, organic chicken hearts, organic chicken liver, egg yolks, water, organic psyllium seed husk, wild salmon oil, taurine, vitamin E supplement, bovine adrenal tissue, bovine spleen tissue, ovine thymus tissue, porcine pancreas tissue, salt, thiamine mononitrate, riboflavin supplement, niacin, pantothenic acid, pyridoxine hydrochloride, folic acid, vitamin B12 supplement.
All chicken is born, raised and harvested in California and is certified organic, free range, certified humane and antibiotic free
Protein: 13% min.
Fat: 6% min.
Fiber: .5% max.
Moisture: 78% max.
Ash: 2.5% max.
Calcium: .8%
Phosphorus: .7%
Magnesium: .05%
Taurine: .2%
36 kcal ME/oz
Calcium to phosphorus ratio: 1.2:1
Store frozen and thaw in the refrigerator prior to feeding. Feed cat 2% to 4% of cat's weight daily. The recommended daily total for a 10 lb. adult cat is 3 to 6 ounces of Savage Cat Food. Discard any food that is not consumed within an hour and clean serving dish and surfaces. Feed one to two meals daily or as advised by your veterinarian. Kittens can eat 4% to 10% of their body weight depending on age and activity level. Pregnant and nursing females can eat 2 to 3 times the normal adult amount which can vary based on their litter size.
TIP: For individual portioning, thaw the tub and refreeze in an ice cube tray or silicone mold. Tubs can be thawed and refrozen one time.