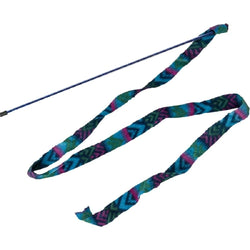 SPOT Cat Teaser Fleece Frenzy Cat Toy
Delight Your Darling Fur-ball With The Ethical Pet Cat Prancer Fleece Frenzy Wand Cat Toy. Featuring An Extra-long Fleece Streamer That Flows And Floats Through The Air As You Wave The Wand, This Mesmerizing Toy Will Keep Your Cat Jumping And Running Around For Hours Of Fun And Exercise. The Soft, Colorful Fleece Hooks Easily And Feels Satisfying When Cats Catch It, While The Wand Keeps Your Hands Out Of The Way Of Excited Claws.
Key Benefits
Fleece Ribbon Flows Gracefully Through The Air And Captivates Felines.
60-inch Streamer Wand Is Long Enough To Get Your Cat Running Back And Forth Across The Room Or Even The Whole House.
Excellent Exercise For Kitties And Their People. Practice Your Interpretive Dance Routines With Your Furry Dance Partner!
A Great Way To Spend Quality Interactive Playtime With Your Cat.