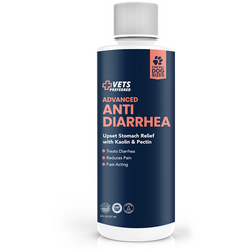 Vets Preferred Advanced Anti-Diarrhea Liquid
hs your dog struggling with an upset stomach? We never want to see our pets in pain. This Advanced Anti-Diarrhea Liquid treats an upset stomach and provides quick relief.
Quick and effective
Soothe your pet's upset stomach and stop their diarrhea with this quick-acting formula
Restores gut health
Suitable for use in cases of diarrhea, gastroenteritis, and gas relief.
Formulated for dogs
The active ingredients pectin fiber and kaolin clay help relieve diarrhea without leaving your dog dehydrated
Simple to use
Administer once every 12 hours directly or mix with their food.
Soothes and firms
Helps alleviate irritation, discomfort, and cramping associated with dog diarrhea within 2-3 days.
Fast-acting solution
This advanced formula will work quickly to get your pooch back on their feet in no time!